Bathroom Remodeling Services
Retreat To Your Very Own Oasis
Bathroom remodeling is a transformative process that turns your bathroom into a personal oasis of comfort and functionality. At Mason Sky, we specialize in designing and creating bathroom spaces that blend practicality with luxury. Our remodeling process encompasses everything from updating fixtures, installing new tiles, and replacing vanities to implementing modern designs for showers, baths, and even adding unique elements like heated floors.
Enjoy a Hot Shower In Luxury
Tiled Shower Installation
A well-designed tiled shower offers a luxurious bathing experience while serving as a stunning visual centerpiece.
A well-designed tiled shower offers a luxurious bathing experience while serving as a stunning visual centerpiece. With a myriad of tile materials, colors, and designs to choose from—ranging from classic subway tiles and marble to colorful mosaics or contemporary large-format tiles—you can create a look that perfectly matches your style and complements your overall bathroom design.
Additionally, with features such as built-in niches for storage or bench seating, your new shower can be tailored to your specific needs. Beyond the immediate aesthetic upgrade, a professionally installed tiled shower is durable, easy to clean, and can significantly boost your home's resale value. It's an investment that combines practicality with the luxury of a personalized spa-like experience right at home.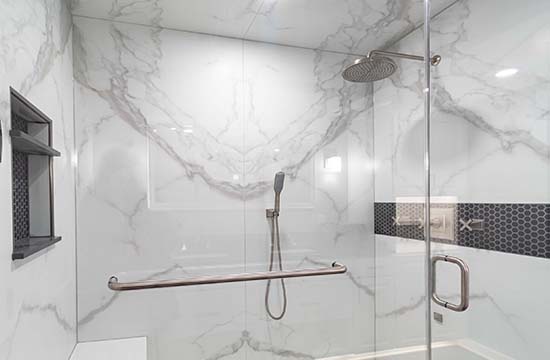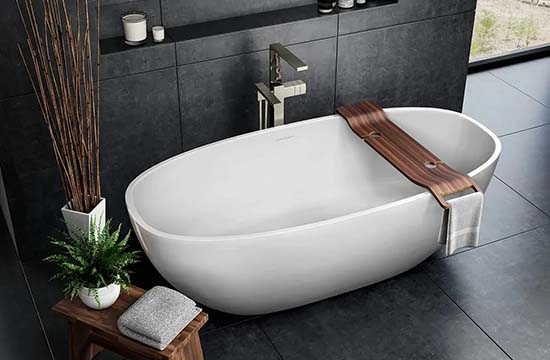 Soak Away All Your Troubles
Tub Installation
Soaker tub installation is a luxurious addition to your bathroom that promises relaxation and rejuvenation.
Soaker tubs, deeper and wider than standard tubs, are designed to immerse the user completely, providing a spa-like experience at home. Whether you prefer a sleek modern design or a classic claw-foot tub, the range of styles and materials available means you can find the perfect tub to suit your decor and personal taste.
A strategically placed soaker tub can serve as a stunning focal point, elevating the overall design aesthetic of your bathroom. Beyond its aesthetic appeal, a professionally installed soaker tub adds value to your home, making it a desirable feature for potential buyers. Immerse yourself in comfort with a new soaker tub, where everyday bathing becomes an indulgent escape.
Single, Dual, Modern. We Do It All
Bathroom Sink Installation
Bathroom sink installation is a crucial element of any bathroom remodel that significantly influences both the functionality and aesthetics of your space.
The right sink not only provides a practical area for your daily hygiene routine but also contributes to the overall design of your bathroom. From undermount and top-mount sinks to vessel or pedestal styles, there's a wide range of options available to suit your personal taste and bathroom layout. Material choices vary as well, offering everything from classic porcelain and sleek stainless steel to modern glass and natural stone.
Moreover, coordinating your sink with the right faucet can further enhance its functionality and design appeal. A professionally installed bathroom sink elevates your bathroom's look, optimizes its functionality, and can significantly add to your home's resale value.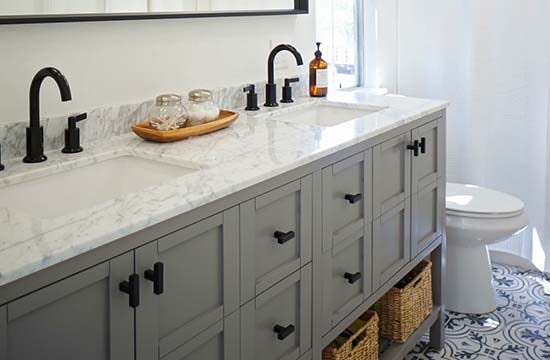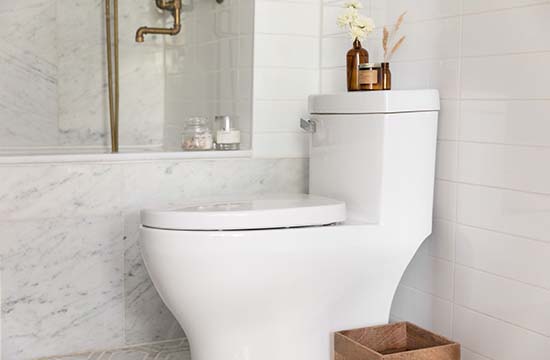 Every King or Queen Needs a Throne
Toilet Installation
Often overlooked in the face of more prominent design features, the right toilet can really impact your bathroom's functionality & comfort.
New toilet installation is an essential aspect of any bathroom remodeling or upgrade project.
Today's market offers a wide variety of models, from traditional two-piece designs to sleek one-piece units or wall-mounted toilets. Many modern toilets also come with enhanced features such as dual-flush systems for water efficiency, soft-close lids for noise reduction, or comfort height design for ease of use.
Selecting the right toilet and having it professionally installed ensures reliable and efficient operation, contributing to the overall comfort of your bathroom. An upgraded toilet can also add to your home's resale value, making it a sound investment.
INQUIRE ABOUT A PROJECT
SHARE YOUR VISION & GET A QUOTE