Kitchen Remodeling Services
Cook Up The Kitchen of Your Dreams
At Mason Sky, we offer exceptional kitchen remodeling services tailored to fit your unique style and functionality needs. Our team of experts crafts personalized, innovative designs and delivers flawless execution, transforming your kitchen into a harmonious blend of beauty, efficiency, and comfort. Choose Mason Sky for your kitchen remodel and experience the thrill of seeing your dream culinary space come to life, enhancing your home's value and your everyday living.
Nothing Better Than More Storage
Kitchen Cabinets Installation
Cabinets play a critical role in organizing your kitchen, offering ample storage to keep your countertops clutter-free.
Installing new kitchen cabinets in your home can significantly elevate both the functionality and aesthetics of your culinary space. From a design perspective, they contribute majorly to the overall look and feel of your kitchen.
Whether you prefer sleek modern designs or classic wood finishes, the choice of cabinet style, color, and hardware can set the tone for the entire room. New cabinets can be tailored to suit your specific needs and taste, featuring innovative solutions like pull-out shelves, built-in spice racks, and soft-close hinges. In addition to enhancing your kitchen's functionality and style, new cabinets can also contribute to increasing your home's resale value.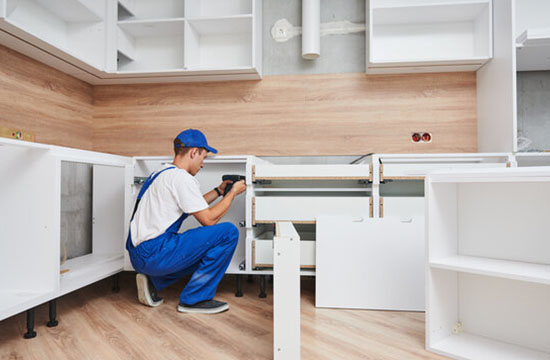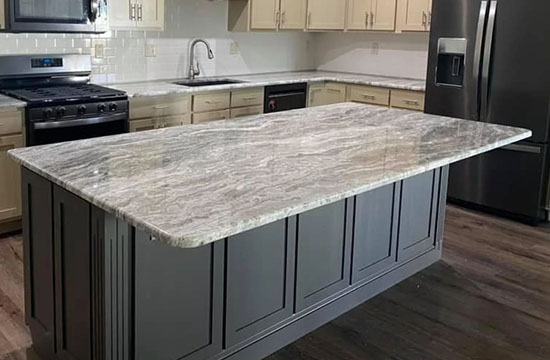 Granite, Marble, Quartz & More
Kitchen Countertops Installation
Installing new countertops in your kitchen is a pivotal part of any kitchen remodeling project, as it enhances functionality & aesthetics.
Countertops provide the much-needed workspace for your culinary adventures and also set a major part of the visual tone for your kitchen. Whether you're considering natural stone options like granite or marble, engineered stone such as quartz, or other materials like laminate or solid surface, the choice can dramatically transform the look and feel of the kitchen.
Beyond beauty, it's important to consider factors like durability, maintenance, and resistance to heat, scratches, and stains when choosing your countertop material. A well-chosen and professionally installed countertop can withstand years of use, resist wear and tear, provide a sanitary surface for food preparation, and significantly boost your home's resale value.
Backsplashes Can Change a Kitchen's Entire Look
Kitchen Backsplash Installation
Installing a new kitchen backsplash is a fantastic way to inject personality and style into your culinary space.
Serving a practical purpose of protecting your walls from splashes and spills, a backsplash can also serve as a focal point of your kitchen design. From colorful ceramic tiles and timeless subway tiles to modern stainless steel or classic marble, the materials and design possibilities are virtually endless.
A backsplash can complement your countertops, contrast with your cabinets, or can be the statement piece that brings the entire kitchen design together. Not only does a professionally installed backsplash add an artistic touch to your kitchen, but it also contributes to enhancing your home's value, making it a smart and stylish investment.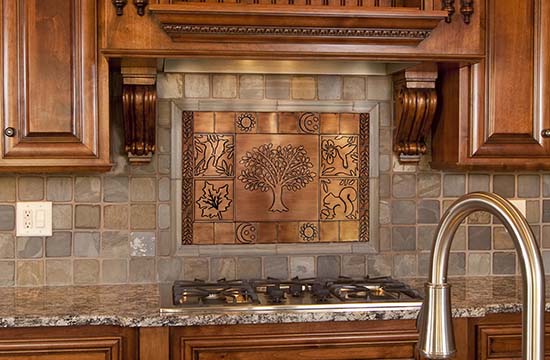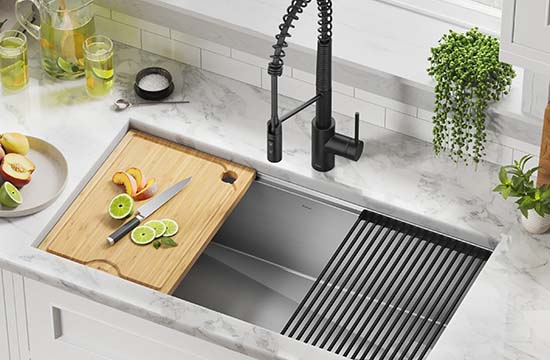 Doing Dishes Has Never Been So Fun
Kitchen Sink Installation
A well-chosen, professionally installed kitchen sink makes your daily chores more enjoyable and enhances your kitchen's overall appeal.
Today's kitchen sinks go beyond the standard designs, offering a myriad of styles, materials, and innovative features. From sleek stainless steel models to timeless ceramic farmhouse sinks or ultra-durable granite composite sinks, you can choose a design that perfectly aligns with your kitchen aesthetics.
Consider features like double basins for easy multitasking, deep bowls for large pots and pans, or integrated drainboards for added functionality. Moreover, modern sinks often come with sound-dampening technology for quieter use and easy-to-clean surfaces for maintenance convenience.
INQUIRE ABOUT A PROJECT
SHARE YOUR VISION & GET A QUOTE